ADMISSIONS OPEN 2023-24
Play Group to Class XI & XII (Science, Commerce & Arts)
Shiv Jyoti Educational Group was founded in the year 1982 by dedicated and devoted educationists and thinkers. We started with a mere two-roomed educational center aiming to provide an environment which facilitated the development of children in a manner that was creative and stimulating. Today, Shiv Jyoti Convent School is situated in the heart of the city and is the nearest CBSE school to all the coaching institutes,  We Provide Education To more than 4000 students from Play Group to 11th And 12th in All streams like Science(PCM, PCB), Commerce and Humanities. We Provide students friendly Environment to students coming from all parts of INDIA to study in EDUCATION CITY IN KOTA.
This was the reason; we stand touching the sky with thousands of students on board imparting quality education for more than 35 years now. We truly believe that education is the principal tool for social development and unless all societies are provided with the right type of education, adequate in quantity and quality, it will not be possible to tackle the problems of ignorance, ill health, and poverty which afflict the majority of human beings.
FOR CLASSES 11th AND 12th
As per the CBSE scheme of studies, each student is required to opt for one compulsory language at the core level along with four electives. The school offers these subjects under three streams; Science, Commerce and Humanities. The language at the core level offered is either English core/ English Elective.
We Provide Students Friendly Environment to  Students Coming From All Parts of INDIA to Study in EDUCATION CITY IN KOTA. 
Subjects are offered under the following streams:
Geography
History
Political Science
Sociology
Psychology
Economics
Computer Science
Painting
Hindi Core
Applied Mathematics
Physical Education
Informatics Practices
Business Studies
Economics
Accountancy
Hindi Core
Informatics Practices
Applied Mathematics
Physical Education / Computer
Physics
Chemistry
Hindi Core
Informatics Practices
Mathematics / Biology
Computer Science / Physical Education
A professional counsellor is available to guide our students on career related issues as well.
JUNIOR SCHOOL YEARS – CLASSES 1 TO 5
A spirit of enquiry goes hand in hand with the sound acquisition of languages and numeracy skills. Our aim is to offer a broad and balanced curriculum. The subject areas are English, Hindi, Mathematics, Social Science, General Science and Environmental Studies, Music, Dance, Drama, Art, Technology, Physical Education and Personal, Social and Moral Education. The assessment of student work is continuous and broad in its scope. Students are encouraged to reflect on their work and assessments and make efforts for continuous improvement. Our programme is affiliated to CBSE.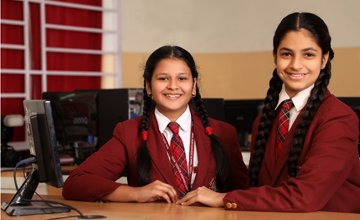 MIDDLE SCHOOL YEARS – CLASSES 6 TO 8
The middle school years are a time of significant intellectual, physical, social and emotional growth. Students are helped to keep pace with the accelerated academic challenges and get support in acquiring life skills. They are assisted with study skills, organization of work and gain confidence at performing under examination conditions. Pastoral care is a priority for the school and great care and attention is taken to ensure that there is regular contact between students and teachers. The academic subject areas include English, Hindi, Mathematics, Science, Computer, History, Geography and Civics and a third language is also added to the curriculum. The program is supported by individual and group activities outside the regular curriculum, as well as guest speakers, community projects and intensive workshops.
SENIOR SCHOOL YEARS – CLASSES 9 TO 12
Shiv Jyoti school offers a range of education and examination option benchmarked with the highest national and international standards. Success during the years of Senior School is vital for the future goals and ambitions of all our students and their families. Our curriculum offers a range of subjects leading to success in the CBSE exams.
We offer Science stream with P.C.M. and P.C.B. and Commerce And Arts stream in classes XI and XII and help them to thrive in their academic goals.
A professional counsellor is available to guide our students on career related issues as well.
When technology is integrated into education, students are expected to be more interested in the subjects they are studying. Our Digital Classroom provides different opportunities to make learning more fun & enjoyable in terms of presenting same things in new ways. It ensures more active participation in the learning process which can be hard to achieve through a traditional lecture environment.
Read More »
We strive to achieve excellence in learning both within and beyond the classroom. We wish our students to not only exceed in academics, but also become an all-round performer by excelling in the fields beyond academics too.
To reinforce the academic curriculum and a global vision, a series of talks and workshops are held throughout the year by eminent personalities from the world of Science, Arts, Academics, Technology, Media, Music, Dance & Drama. The topics range from Environment to Substantial Development through Non-violence, Bio-diversity, Elections and Democracy, from life skills to attitudes and values to health and physical education.
We take note of national and international festivals and anniversaries at our morning assemblies and also celebrate them through dance, drama, music, debate, story-telling sessions, painting and other creative endeavours. We try to inculcate knowledge and values through 'Thought of the day', Amazing Facts & News regularly. Parents and other family members are regularly invited to school functions
OUTDOOR ENERGIZERS
INDOOR ENERGIZERS
MUSIC, DANCE AND THEATRE
STUDENT COUNCIL
OUTDOOR ENERGIZERS
OUTDOOR ENERGIZERS
The outdoor activities at Shiv Jyoti Convent School not only offer the optimum opportunity for physical development of the student but also nurtures his holistic growth. The well maintained Basket Ball Court, Volley Ball Court, Clean and Clear Swimming Pools, Delightful Train Ride, Amusing Swings, Cricket Ground, Badminton Court, Skating Court fill students with such energy with which they can do wonders.
The outdoor activities not only give them relief but also hold countless learning opportunities for the student of Shiv Jyoti Convent School. The following are the various sports which we provide to our students for their physical grooming: –
Athletics
Basketball
Cricket
Volleyball
Badminton
Skating
Tennis
Swimming
Aerobic
Swimming
Aerobics
Gymnastics
INDOOR ENERGIZERS
MUSIC, DANCE AND THEATRE
STUDENT COUNCIL
Mathematics Club
The zone of Mathemagicians. They learn through games, puzzles and models and explore various number tricks and patterns.
Quiz Club
The Quiz Club members organise various quizzes and audiovisual shows to keep themselves and others updated with latest happenings around and increase the general knowledge.
Drama Club
The members organise activities related to theatre and drama involving action and fun with the social message.
Creative Club
The club aims to develop the artistic sense in a child and further nurtures it by using different mediums such as clay, recycled products and paper. The members are given full freedom to express their creativity.
Literary Club
The objective of this club is to help children appreciate both English and Hindi Literature adopting a communicative approach. A sense of confidence is instilled in the child through various activities such as storytelling, debates, and role-play.
Nature's Club
This is the club of young environmentalists. The Nature's Club members are zealous in their attempt to create a Green School and build awareness in environmental issues. The members take a pledge to respect nature and love the Earth through various activities.
Science Club
A hub of young scientists. They have keen interest in learning by doing. Here the children are provided with opportunity for safe explorations.
school in Kota, kota school admission, school in kota rajasthan, cbse school in kota, Best School in kota, top 10 schools in kota, dummy school in kota, dummy school fees in kota,
schools in kota for class 11 and 12, top school in kota, best dummy school in kota, cbse school Kota, Admission for class 11 kota, 11 class admission kota,
Class 11 CBSE admissions, Class 11 CBSE admissions, Dummy CBSE Schools in Kota, cbse class 11 admission" kota, 11th admission form kota, kindergarten school kota, admission in class 11 in cbse school kota,
class 11 admissions kota, NEAREST SCHOOL TO ALL THE KOTA COACHINGS, NEAREST SCHOOL TO SARVOTTAM, Admission Class 9 kota, 11 class admissions kota, class 11 cbse admission kota, Dummy School Kota, best kindergarten school kota,
NEAREST SCHOOL TO VIBRANT, Play school in kota, Shiv jyoti schoo kota, 11th standard online admission CBSE kota, admission for 11th class kota, Top cbse school in kota, NEAREST SCHOOL TO ALLEN, class 11 dummy admission,
kota school for class 11th, school in kota near allen, shiv jyoti CBSE